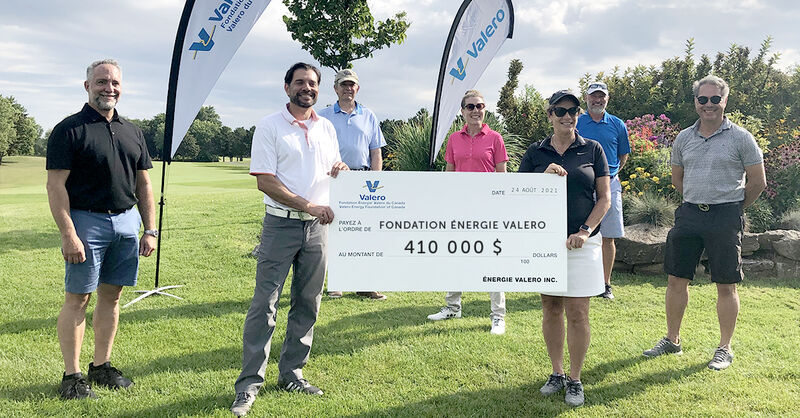 The 16th edition of the Valero Energy Foundation of Canada Golf Classic fundraiser was held yesterday, bringing together more than 200 golfers at the St- Raphaël Golf Club in L'Île-Bizard. A total net amount of $410,000 was raised during the event.
Every year, several of Valero Energy's business partners, suppliers and collaborators come together to participate in this friendly golf tournament to help raise funds for organizations that support children from underprivileged backgrounds and who further enhance conditions conducive to school perseverance and success.
Patrons longstanding and new, show their continued support such as:  AMSPEC, Descimco, Groupe Desgagnés, Intertek Caleb Brett, Mécanique CNC, Norda Stelo, SGS Canada and Tetra Tech to name a few. Thanks to their generosity and invaluable support, the Foundation is able to pursue its charitable mission in the community where Valero has an industrial footprint more specifically in Quebec. We are truly grateful for this!
Since 2004, the Valero Energy Foundation of Canada has redistributed more than $6 million to some 3,000 organizations. Partnerships developed with organizations such as Alloprof, Educaide, Jeunes musiciens du monde and the Portage Foundation are examples of some of its successful initiatives, all made possible thanks to this event.
A special thank you to our Valero ambassadors who participated in the organization and for allowing for such a great turnout! Your presence and your enthusiasm – despite the intense heat – contributed to the success of the event!
Photo: Left to right at the are Louis-Philippe Gariepy, Director Canadian Government and Public Affairs; Kunal Saha, VP Product Supply, Steve Motz, SVP Canada, Mexico & Peru Commercial operations; Julie Normand, Director Legal Services; Martine Peloquin, VP and General Manager, Jean Gaulin refinery, Eric Methot, Director HR, Compensation & Benefits – Canada; and Jean Drolet VP Sales and Marketing – Canada.