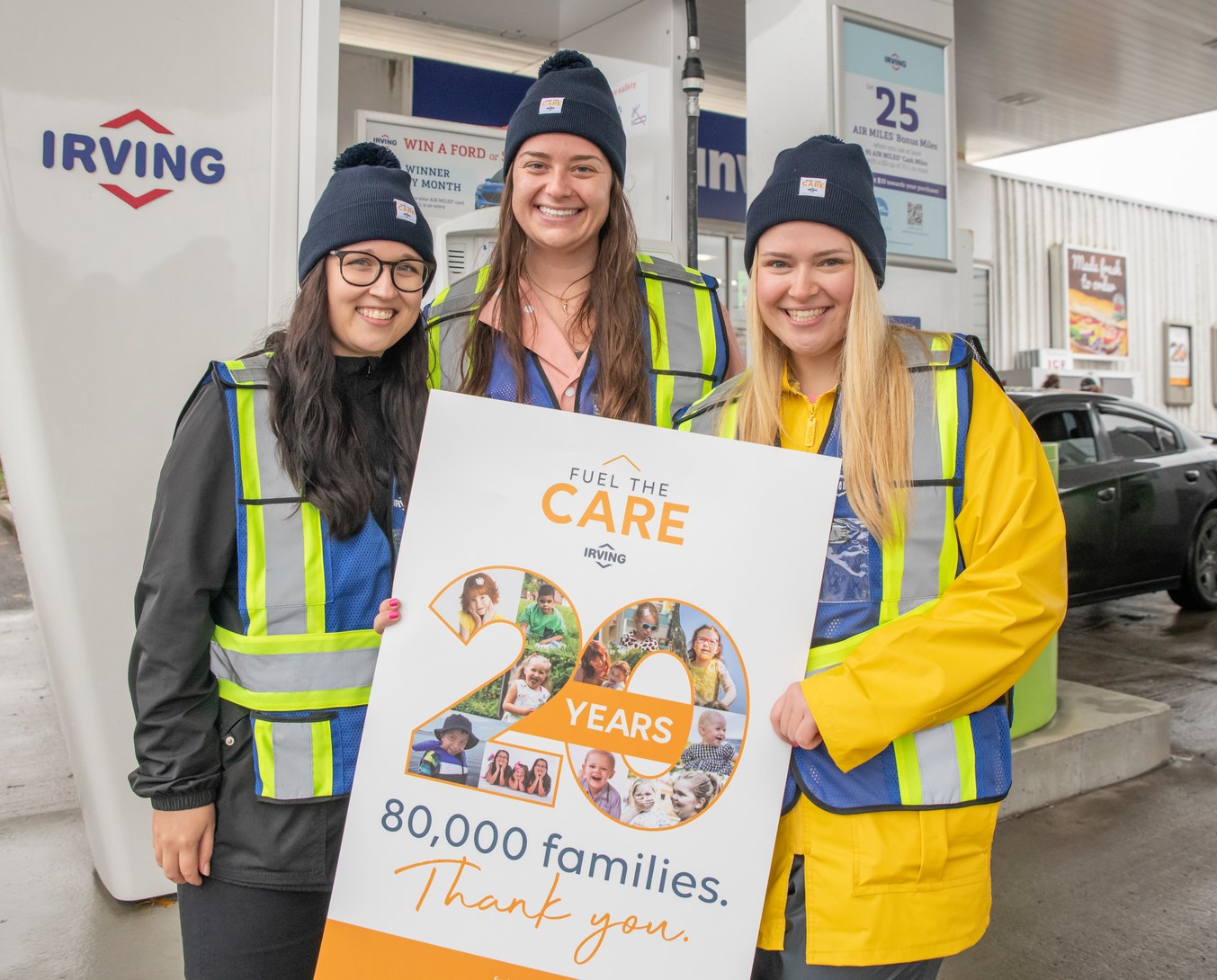 Did you know, every time you visit an Irving Oil location, choose Irving Energy to heat your home, or enjoy a homestyle meal at an Irving Big Stop Restaurant, you're helping to support families in need through the Fuel the Care program?
In partnership with nine hospitals throughout Atlantic Canada, Québec, New England, and Ireland, Irving Oil's Fuel the Care program has supported more than 80,000 families over the past 20 years, and it all started with the IWK Health Centre in Halifax, NS.
"Over 20 years ago, we proudly partnered with Irving Oil to introduce the Fuel the Care program at the IWK. In that time, we've seen the impact Fuel the Care has had on thousands of Maritime families, and we know that impact will continue for years to come. At a time when they need it most, Fuel the Care helps to alleviate stress on families who are travelling to the IWK for their child's care. This partnership shows these families that they're not alone and that there's a whole community behind them. On behalf of these families, thank you, Irving Oil, for your continued support and congratulations on this well-deserved recognition." – Jennifer Gillivan, President and CEO of the IWK Foundation
Of the 80,000 families helped since 2002, more than 15,000 have been patient families of the IWK.
Each year, Irving Oil fuel gift cards are provided to the social work department at the IWK, where the staff work directly with families to assess their needs and facilitate access to the program. Since 2002, the program has provided more than $1.5 million in fuel cards to families in need at the IWK alone.
In addition to fuel gift cards, one cent from every litre purchased at designated Fuel the Care Pumps throughout the Halifax area is donated to the IWK Foundation, further supporting families travelling to receive medical care for their child.
In 2022, Irving Oil and its partner hospitals celebrated 20 years of this important program, highlighted by its expansion to Ireland, as well as doubling its fuel card donations for the year, providing an annual total of almost $1 million in support to local families.
"When you're dealing with a chronic condition, it just becomes part of your life. When hospital visits come close, brave Mya is always the first one to say 'Well, I guess it's time to go again,'" said Julie, Mya's mom who has been driving Mya from Pictou to Halifax for Mya's IWK visits. "The fuel cards really go a long way. They help make it possible to live the lifestyle we want in a rural community, and still get Mya the care she needs."
Learn more about the IWK Health Foundation and Irving Oil's Fuel the Care Program