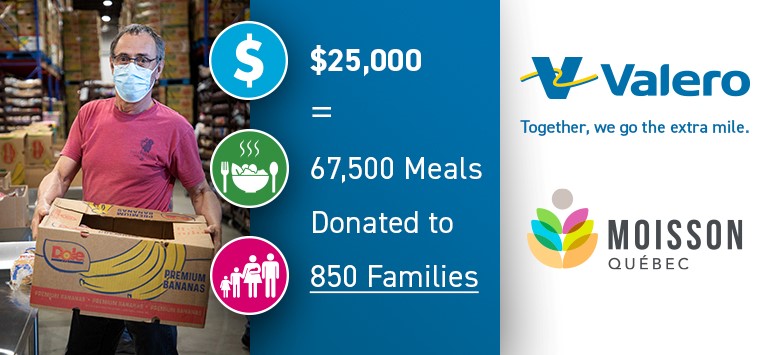 At a time when food banks are dealing with a spike in demand, Valero Energy donated $25,000 to Moisson Québec, the largest food assistance organization in the Québec City area.
The market value of this donation totals $206,250 in food, which represents 67,500 meals donated to 850 families in need!
Since the start of the pandemic, requests for food assistance have doubled on the territory served by Moisson Québec. At the same time, the instability experienced by the agri-food sector has caused major supply issues for this organization that receives most of its food from supermarket and restaurants surpluses or farm producers.
To deal with these major challenges and maintain its support to the population, Moisson Québec has purchased 600,000 kg of food costing a whopping $1.5 million since the pandemic first began. A third distribution center where food is stored and distributed also had to be opened, and further expenditures were incurred for new delivery trucks.
This donation by Valero Energy will enable Moisson Québec to purchase much-needed food that will be added to food assistance baskets distributed to families in the Capitale-Nationale region and in the Chaudière-Appalaches region where the Jean Gaulin refinery is located.
Valero is a caring and attentive neighbour, which is a core value of the company. In these uncertain times, engaging with local community organizations give it a better understanding of the priority needs of communities, resulting in a more accurate and diligent response on its part.