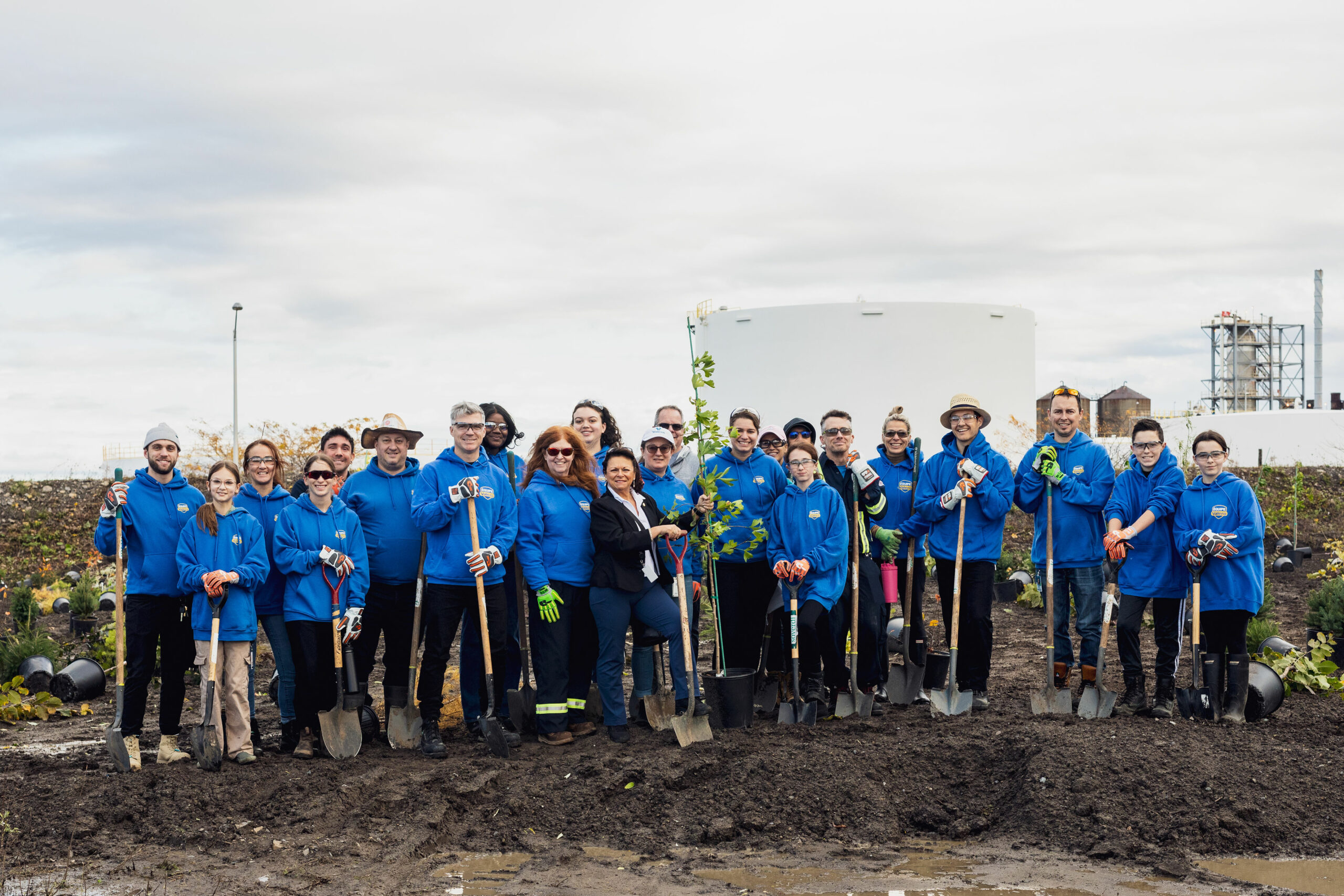 This fall, a team of volunteer employees and members of their families planted 750 trees on the Valero Energy Montreal-East Terminal site. Today, more than 20 species of trees and bushes completely suited to urban conditions make up this micro forest, which is unique to an industrial site of that size.
This project was carried out in collaboration with the Société de verdissement du Montréal métropolitain (Soverdi), an organization that develops greening strategies in urban environments, and with the help of grants from the City of Montreal-East and the federal government. In the spring, teams from Valero and Soverdi met to assess the development requirements for a one-acre zone that was previously used as a snow-storage site for snow removal operations at the terminal. Soil characterization was performed to ensure soil and structural quality, and to make appropriate selections of tree species.
Secondly, grading operations were conducted to level out the land and allow for effective drainage during rainstorms and snowmelt. In total, 650 cu. m of earth was ordered to fill the site and provide a favourable environment for the plantation's survival.
Once the preparatory work was complete, twenty or so motivated employees rolled up their sleeves and got down to the task of planting trees and bushes based on a Japanese-style development plan. "The objective was to come up with a dense tree cover with a variety of tree species and sizes to create a sustainable and resilient forest that can stand up to the stress of an urban environment," explained Alexandre Rose, environmental specialist with Valero Energy.
Planted this way, the trees will develop a better root system, exchange nutrients with one another and reach full growth more quickly. White firs, silver maples, Ohio buckeyes, serviceberries, European larches, Colorado spruces, Scots pines, eastern cottonwoods, red oaks, Japanese lilacs and American elms are but some of the species selected to make up this ecosystem. Some of these trees, at full maturity, will be up to 25 m tall.
Responsibility Shared Between Actors on the Territory
Private and institutional lots in Montreal account for more than two thirds of the territory. The commitment by companies such as Valero Energy in undertakings of this type is necessary to ensure that our city becomes home to a wider variety of plant species.
In addition to beautifying our living and working environments, these urban wooded areas help manage water and create cold air islands, improve air quality by capturing particles and dust and provide biodiversity areas for insects and certain animals.
"Valero has a large industrial footprint in the east of Montreal, and we make it our responsibility to participate in the creation of green spaces where it's possible," explained Jean-Sébastien Borduas, Executive Director, Pipeline and Terminals. "We hope this project will inspire our neighbours and other companies on the territory to participate in efforts to green our cities and towns to benefit their employees."