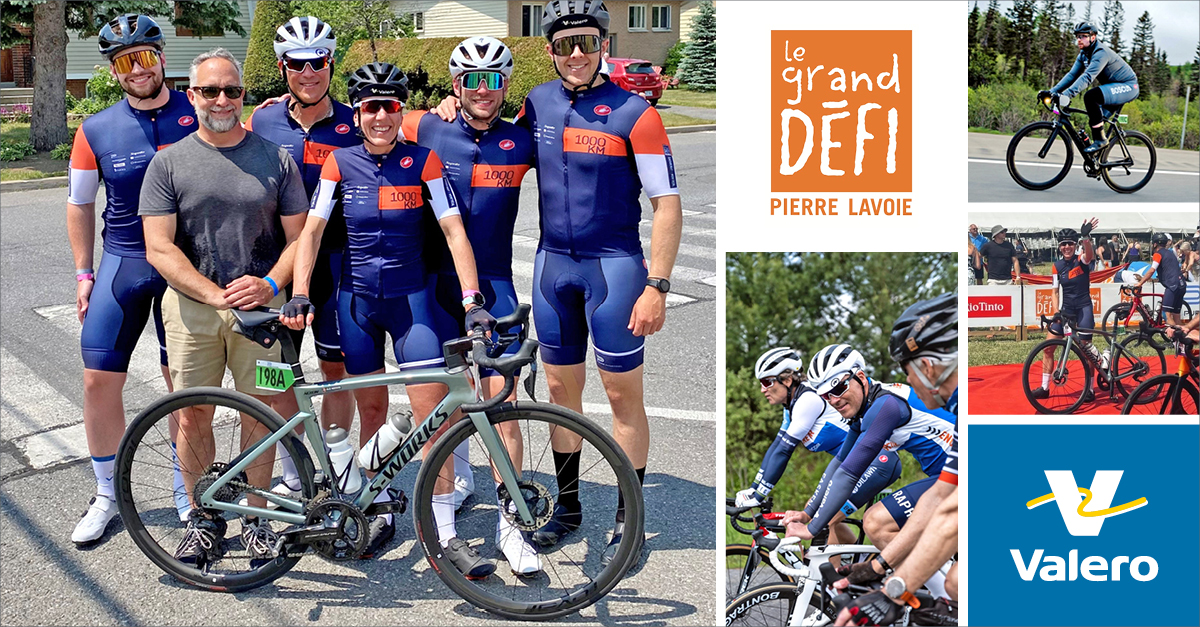 On June 8, a team of five Valero Energy employees hit the road for the Grand Défi Pierre Lavoie. They covered 1000 km in 60 hours, and created a host of memories to take with them when their adventure came to an end.
From Saguenay to Varennes, and through Lévis, Victoriaville, and Bromont, the course was demanding with steep hills, winding roads, and changing weather conditions. Participants encountered other challenges such as cold temperatures and a lack of sleep.
For Julie Normand, Director, Legal Services, the 2023 edition of this great sporting challenge will have been among the most rewarding and enjoyable of her experiences. "The weather was on our side, we had no troubles or incidents—everyone had fun!" Above all, the event was marked by a close camaraderie and a true team spirit. "Life in an RV with the laughing and complicity was the most rewarding aspect. Seeing the cyclists smile after covering one leg of the course, that was the reward!" she exclaimed.
Everyone's role was essential, whether it was encouragement from the local communities along the way, or the cyclists from different teams helping one another. Every small gesture made a difference.
A seasoned cyclist, Martin Vinet, Director Supply Operations & Trading, was involved as an overseer, an important role in providing security for cyclists on the team. "Martin was the rock of our team," explained Louis-Philippe Gariepy, Director, Canadian Government & Public Affairs. "He was strong, serene, and has the strength of 10 people. He regularly helped cyclists go up hills or encouraged others to catch up. On Saturday, he put on his overseer bib and racked up more than 275 km that day alone, with a smile on his face all the while."
The Grand Défi Pierre Lavoie is far more than a mere 1000 km cycling course. It is a profoundly transformational experience that compels participants to push their limits, extend themselves, and make a difference in the lives of thousands of young people. "It's especially an opportunity to push one's boundaries both mentally and physically, while sharing a significant experience with other passionate cyclists," said Mathieu Cloutier, Manager, Commercial Strategy & Analytics.
Their return to Montreal marked the end of Valero's series of events surrounding its participation in the Grand Défi Pierre Lavoie. In total, more than $33,067 was collected during this great event to help the Fondation du Grand Défi Pierre Lavoie and the St. Octave School, an elementary school located just a few metres away from Valero's Montreal East terminal.
Valero Energy donated the funds raised to the St. Octave School's team during the great run the school organized to mark physical education month. For the occasion, a number of employees were on site to lend a hand with site preparation and decoration, to ensure the safety of the students, and to encourage them to persevere throughout their run.
Kudos to the cyclists of the Valero team, who were proud ambassadors of their company during this important event. Their perseverance and commitment are inspiring!