Collaboration is at the heart of the transportation fuels sector and a key pillar of CFA's Driving to 2050 vision, so it is fitting that we designed an award to recognize groups with whom we have shared objectives and work together with us to make these objectives happen.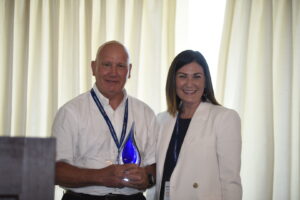 The CFA Collaboration and Partnership award recognizes an organization or association that demonstrated solid engagement and cooperation with CFA and our members, leading to positive outcomes for shared objectives.
The British Columbia-Sustainable Marine, Aviation, Rail and Trucking (BC-SMART) Low-Carbon Fuels Consortium, based at the University of British Columbia (UBC), has been diligently assessing global technology development and deployment as well as policies that encourage the production and use of low-carbon fuels, such as biodiesel, renewable diesel and Sustainable Aviation Fuel (SAF).
"These alternative fuels are considered sustainable, affordable and commercially viable solutions to decarbonizing long-distance transport and other areas where electrification may not be practical." Says Professor Jack Saddler, of the University of British Columbia.
In addition to demonstrating a strong willingness to collaborate and partner with CFA on several key initiatives, the BC SMART program, led by Professor Jack Saddler of the University of British Columbia, is helping to educate and raise awareness around the challenges and opportunities for producing and using low-carbon aviation and marine fuels.
"Canada is a resource-based economy and its oil and gas sector is one of its strengths. Companies such as Boeing, where fuel is a major source of GHG emissions, has been a strong supporter of BC-SMART and they value the interaction with many of the CFA members as they strive to lower the carbon footprint of their operations and fuels" notes Professor Saddler.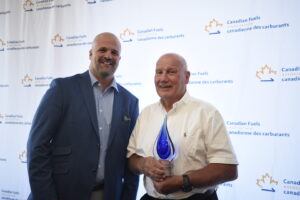 Hosting several in-person workshops and webinars in which CFA and members have participated, including as speakers and moderators, the BC SMART program has been instrumental in facilitating conversations around made-in-Canada solutions and using Canadian fuel suppliers and infrastructure to meet compliance requirements and achieve both environmental and economic benefits.
The CFA and its members are grateful for the key connections this program has helped foster between different stakeholder groups along the full supply chain, and their role in strengthening CFA's relationships with the international community working on policy and technology, specifically on SAF.
"BC-SMART wants to thank CFA for the 2023 Collaboration and Partnership Award and will continue to provide forum that brings together Canada's main components of its economy, as the country strives to meet its decarbonization targets" Jack concluded.
Please join us in celebrating the BC SMART program as the 2023 CFA Collaboration and Partnership Award winner.