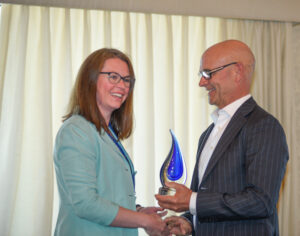 Like any industry Association, the CFA relies on the talent and expertise that exists within our member companies to help us tackle challenges and seize opportunities to advance Canada's transportation fuels sector.
The Committee Member of the Year Award celebrates outstanding efforts by an active member of a CFA committee or working group, that supported the goals and objectives of both CFA and the sector.
While there were several powerful nominations and many deserving candidates of the Committee Member of the Year award in 2023, one individual stood for demonstrating their commitment to not only Imperial's goals – but the sector as a whole, while providing advice and guidance for the CFA on several key files.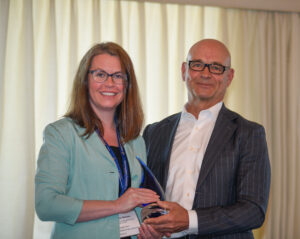 As an active member of both CFA's National Climate Change Committee as well as our National Fuels Committee, Michelle is known for bringing a collaborative and sector-wide approach to the work that she does in support of the CFA, our goals and objectives.
In her role as co-chair of the National Fuels Committee, in 2022 Michelle provided significant support and leadership – ensuring meetings were engaging and productive and through her willingness to speak up share her perspective on key topics and help guide conversations. Michelle can always be counted on to provide valuable technical and policy input on CFA submissions. Her tireless efforts are appreciated by CFA staff and fellow industry members, as demonstrated through her participation in CFA's Transportation Fuels Workshop in collaboration with Natural Resources Canada in the fall of 2022.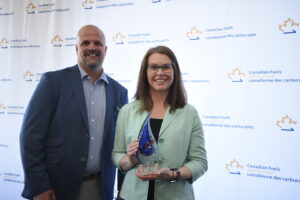 Furthermore, Michelle's understanding of the sector makes her a great contributor to ongoing interactions with stakeholders and all levels of government, as demonstrated in recent speaking opportunities like the Road Chats podcast and CFA's Fuel for Thought speaker series.