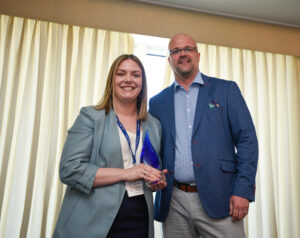 The Rising Star Award recognizes an employee of a CFA member company who is in the early stages of their career and has made a significant contribution to successful operations, health and safety, and/or community engagement.
Elaine Rippon first joined Shell as an Environmental Engineer and worked with CFA to advocate for Shell's and the fuels industry's commitment to environmental excellence. She then moved to assessing and selecting concepts for capital projects, and eventually took on a leadership role as Project Development Manager for the capital projects portfolio across the Scotford Refinery, Upgrader, and Chemicals plant.
Elaine and her team delivered the front-end engineering of the Refinery Quick Win Rail project to expand product evacuation options when Shell shifted their operations out of Russia in 2022. This example of increasing energy stability with Canadian fuels demonstrates Elaine's commitment to delivering work which highlights how Canadian fuels are an important global enabler today, tomorrow, and in the future.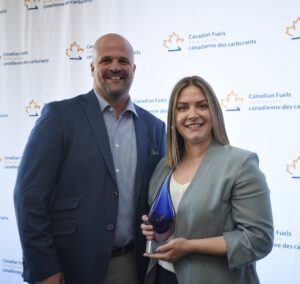 Elaine is also a Canada-wide leader advocating for Diversity, Equity, and Inclusion and has used projects to deliver systemic improvements throughout Shell and the Scotford site. She framed and initiated the construction of a gender inclusive washroom and changeroom, sponsors the Scotford Culture Advisory Council, and sees the future of our industry as a place where everyone has a sense of belonging.
Elaine is versatile, dedicated and strongly supports a variety of important initiatives. She not only demonstrates an exemplary combination of environmental advocacy and technical skills, she is also a leader in caring for people.
Join us in congratulating Elaine on the many qualities and accomplishments that make her
a true Rising Star!